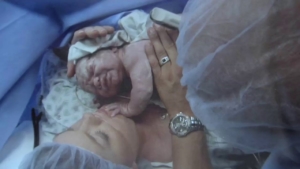 Recovery after a caesarean
You will have a lot going on with a new baby around and this can be harder when you are recovering after a caesarean.
A caesarean is a major surgical operation and it is important that you focus on caring for your baby as well as giving your body the time and care it needs to recover. You should expect it will take at least a few weeks, probably even longer, to physically start to feel normal again. Taking it easy and being kind to yourself is going to be really important in these first few weeks.
Recovery will be different for every woman and will likely depend on what happened before and during the birth of your baby. You will most likely experience both the physical and emotional effects of your surgery and you may have trouble carrying out normal day to day activities such as driving a car, lifting anything heavy or stretching and reaching. You may also find it difficult to comfortably breastfeed your baby.
There is plenty of information and advice available to help you care for yourself following a caesarean.
For more information;
Raising Children Network – Recovery after a caesarean: first six weeks
The Mayo Clinic – C-section recovery: What to expect 
Australian Breastfeeding Association – Breastfeeding after a caesarean birth
Baby Centre Australia – Recovery after a caesarean birth