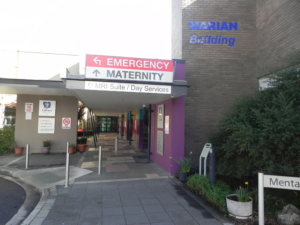 Calvary Public Hospital Bruce
The Calvary Public Hospital Maternity Unit is committed to providing the women of Canberra and surrounding region with excellent care, highly skilled staff and the best available facilities.  By offering women the options of Midwife Led Maternity Care as well as more traditional maternity services, Calvary Hospital strives to provide a positive experience throughout pregnancy, labour and childbirth for women and their babies.
Maternity services include;
Antenatal clinic
Birthing Suite
Antenatal/Postnatal ward
Midcall
Special Care Nursery
Childbirth Education
Continuity of Midwifery Care Service
Calvary Birth Centre
General visiting hours are between 3:00pm-5:00pm and 7:00pm-8:00pm. Partners/support people and siblings are welcome anytime from 8:00am – 9:00pm except during mother's rest period between 12:30pm – 3:00pm.
Calvary imaging offers bulk-billed morphology scans to women who are booked into to birth at the hospital. Pathology support is also onsite and offers bulk-billed antenatal pathology including GTT.
Calvary Public Hospital offers a full range of childbirth education classes including sessions on early pregnancy, preparation for labour and birth, breastfeeding, early parenting and relationship changes. Calvary also offers group antenatal classes which are facilitated by a trained midwife, offering the opportunity to connect with other women while providing education and care.
For information and bookings please contact the Maternity and Women's Health Unit on 02 6201 6359
Or visit the Calvary Public Hospital website;
Calvary Public Hospital Maternity Services: